Putting storytelling at the heart of your digital marketing strategy
14 July 2021
13:05 - 14:00
---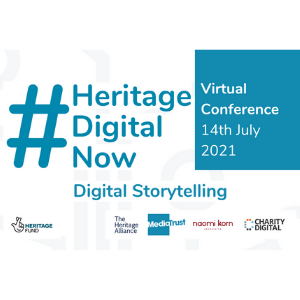 ---
This session will help the heritage sector understand the integral role storytelling plays in the marketing of their organisations. When you tell a great story or stories, you become not only more interesting but much more engaging, memorable and involved with your own work. Heritage organisations have access to an array of stories, more so than other organisations – how do you ensure in the planning of your digital marketing strategy that you are incorporating and highlighting stories early on and throughout?
The session will:
Cover the basic considerations of a digital marketing strategy
Help you understand the importance of telling a good story online
Ask where does storytelling fit into a strategy? Practical tips to ensure storytelling runs like a thread throughout a digital marketing strategy
Highlight opportunities to incorporate storytelling into your digital marketing strategy
Provide tips on creating engaging content with storytelling in mind
Who should watch:
Beginner – Intermediate level
Ideal for those working within Marketing and Communications teams for their organisations, or those interested in exploring storytelling strategies and how to begin putting these into a digital a marketing strategy.
Best if you already have the beginnings of a digital marketing strategy in place, but useful tips for those who are in the process of creating this.